How Suffern Households Can Counter Water Damage
7/6/2022 (Permalink)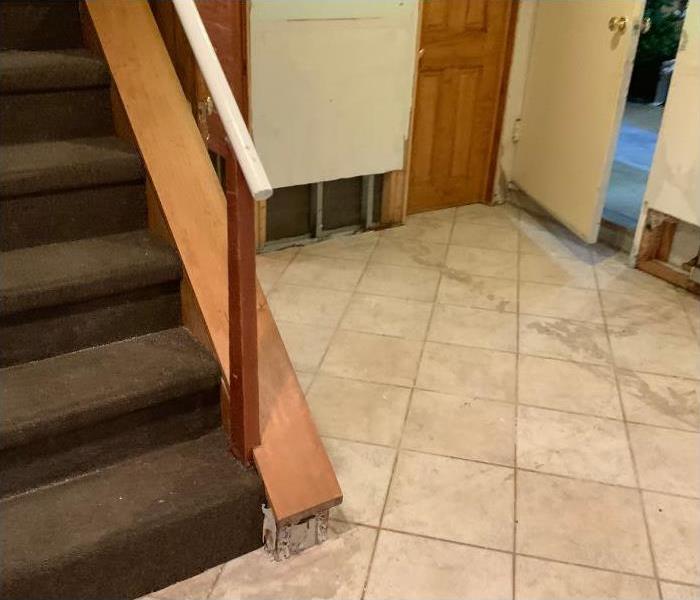 We have the cleaning and restoration equipment ready to be dispatched to your Suffern home that has experienced water damage.
SERVPRO Manages Suffern Water Cleanup Professionally
Since water freely flows once it finds an opening from a contained area, you have limited options to stop it from spreading around your Suffern house. However, you should not sit idly and let water damage take root. You can take pre-emptive actions on your own or hire a professional team to help mitigate the damages.
After exposure, it takes time before Suffern homes develop water damage. Severe problems might include warping or buckling in areas with solid wood, delamination for composite materials, and staining of fabrics, among other issues. Utilizing the window before such adverse damage sets in, which ranges from a few minutes, can reduce costs and inconveniences from the incident. For example, wood can swell within a couple of hours after water exposure, but it takes days for irreversible damage like warping to develop. Calling SERVPRO helps because we expedite restoration processes and use techniques that deal with the intrusion "Like it never even happened."
Priority actions to counter water damage:
Moving items
Blocking the water
Extracting moisture
Some of the most helpful actions are also the simplest to implement. It helps if you do not hesitate to take them even as you wait for professional assistance. Removing areas rugs or other movable items from carpeted floors and lifting drapes minimizes the chances of running dyes causing staining. You can also use thick towels to blot wet areas or block water from spreading quickly from the source to the rest of the house. Mopping standing water from surfaces limits absorption into porous and semi-porous materials. It also limits evaporation into the air, which is detrimental since it raises the overall humidity levels in the house. If the humidity level exceeds 60%, it can trigger widespread mold growth on all organic surfaces like walls, ceilings, floors, and on contents such as wooden furniture or upholstery.
Advanced Action Against Moisture
Water is constantly moving even when it is not flowing physically over surfaces. Wicking through materials or condensing and wetting new areas after evaporating elsewhere are some of the insidious ways moisture moves, creating unexpected problems. Elaborate procedures are necessary to halt such movement and curtail the adverse outcomes.
Useful actions include:
Moisture wicks through materials from very wet areas to dry ones as it seeks equilibrium. Evaporating the water trapped in wet materials effectively limits such movement by providing an alternative escape route for the water. One way to sustain evaporation is by supplying a constant stream of air over wet surfaces. Our SERVPRO technicians use air movers to direct air currents towards the wet areas we identify in a house.
Drying can run into a bottleneck if the air inside your home is oversaturated with the moisture escaping from wet materials. Opening windows can help push the moisture-laden air out of the house in what is referred to as an open drying system. However, that plan can run into problems since the outdoor air might also be humid. Our SERVPRO technicians prefer to incorporate dehumidification in drying your house. The dehumidifier draws in the moist air from a room and cools it down, forcing condensation of the absorbed moisture before releasing dry air back into the room. Sometimes we use plastic sheets to create containment, thus limiting airflow between different house sections.
SERVPRO of Southern Rockland County finds convenient solutions to deal with water damage. Call us at (845) 400-4888. We're Faster To Any Size Disaster.